Here we are, another year of red and black week. This is the second year I'm participating. Last year's intro post (
here
) covered the mythology of the colors--vampires, demons, fairy tales. This year's intro post is more ready-to-wear.
Red and black isn't just vampires and demons, it's also the main color of the tartan print, favorite of schoolgirls and objectified Scotsmen and a really super popular fabric this year.
The trend started of course by the Alexander McQueen brand in 2013, and the many reproductions thereafter. Also helped with the 90s grunge revival.
Though the brand revamped the living Alexander McQueen's earlier, very very personal going-back-to-his-heritage collection of 2006, basically taking a shit on his legacy. here are a few from the amazing 2006 collection:
From the exhibit at the Met, which I was lucky to see in person. The dresses were very lavish and the second and third dress sparkled with either crystal or glass beads.
closeup of beadwork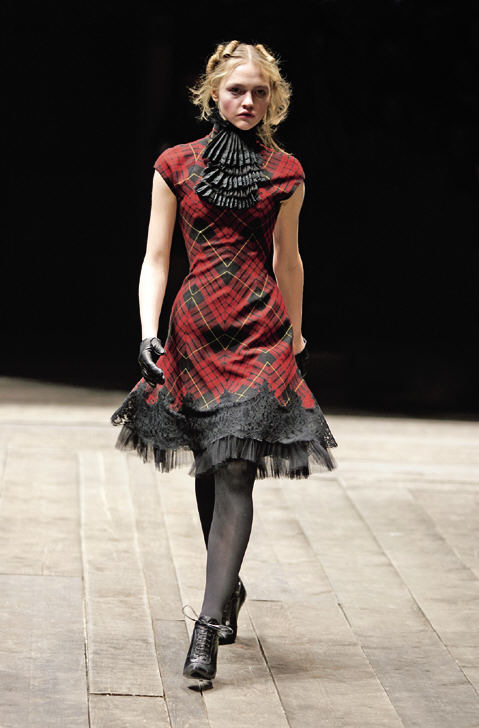 2006
And here's the 2013:
2013
And of course other designers jumped on the trend:
And street fashion/fast fashion stores (Zara, Forever 21, Romwe, etc) snapped it up, as seen with these lookbook looks:
Also punk rock (yes, I know Cannibal Corpse is not a punk band, but the look is more punk-inspired than metal)
If you're wondering about the difference:
I've got two items in this pattern, one is a pair of bondage pants that I turned into a cropped jacket in highschool (kinda wished I left them as pants) they're at the bottom of the closet...maybe i'll dig them out one day for a retro post. (I also have my Jncos.) Here's a picture of an original cosplay with the pant-jacket I did in high school/early college...Punk-Rock Paine:
The other is my 90s plaid flannel
This post was part of: