Read more about the challenge
here.
All dressed up and nowhere to go? lol leave the web cam and head out to the real world. There's plenty of places to wear your dark fashions.
1. club nights and concerts. this is obvious. All goth styles are welcome...and a perfect time for peacocking.
2. but you don't like loud music, expensive drinks, or being out till 5am. you like to start your nights at 6pm-10pm, quiet, and FREE drinks. Small art galleries are your best bet. If you have a gallery district in your city, there's usually a day of the month when the galleries have an open walk. In NYC, there's 2nd Friday in Williamsburg and 1st Thursday in DUMBO. There's also special exhibits that attracts more goths: I went to a Lovecraft exhibition a few years back. The gallery crowd--especially the "regulars"--tends to wear
shapeless
black things
. plenty of dark art and dark types. No corsets/corset tops.
3. Historical events. Renn Faires, 1920s nights, victorian-themed. Corsets/corset tops ok! I just went to the NYC one this weekend. Awesome knights but also gravers.
last years' fair
this year's...my outfit
the graver to end all gravers...with a chuthulu plushie
it isn't just ren fairs. if there's ANY period event, this would be a good time. Here's myself on a vintage train ride through NYC, looking bitchy for some reason.
4. Festivals: art festivals, book festivals, craft fairs--basically any time a bunch of people are gathered in one place. the above tend to attract the more gothy types.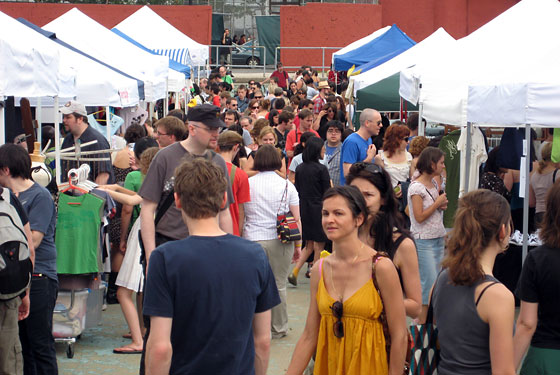 Renegade Craft Fair
5. Comic Book/Anime/Science Fiction conventions...you can go crazy at these conventions. corsets ok! bring your most creative pieces...blur the line between goth and cosplay EVEN MORE.
where do you think our graver friend up there got his chuthulu plushie?
6. Super geek? Best place to dress up is for LARPs. Live action roleplaying games. Or so I hear. Most of the ones I've been to look like this:
7. Shopping. Y'know, laugh at the "mall goths" all you want, but it's totally cool to wear goth/dark clothes when shopping. Says me. It's less lame to dress up for less lame stores--like the cool vintage block in your town or the boutique stores downtown. But whatever, fuck em--I still say it's fun to get gothed out to go to the mall.
guess who's having more fun at the mall than the old navy shoppers...these guys.
8. Museums and historic places. My husband and I made a special trip down to the medieval museum to do some tarot card readings with our medieval deck. Maybe you don't have a place like this to go to. Maybe a stroll down the historic part of your town...or, hell, anywhere with a brick road can re-create the old world feel. Great for wearing more romantic/historic pieces. leave the cybergoth at home!
Am I missing something? Leave it in the comments below!