Read about the challenge
here
.
Yeah...I sometimes make mistakes buying things. Usually when things are on sale. Whenever I think of wardrobe regrets, I think of EVERYTHING I ever bought from this store called Ragstock in Chicago. Yeah, I don't live in Chicago anymore, but IDEA of this store exists in every state/country anywhere.
Basically, take your cool alternative neighborhood. There's the vegan-organic-fairtrade place you can eat for lunch...else cheap pizza. There's a local music bar. There's the place that's lax about their bathroom policy but you never eat there... then theres the coffee shop where you end your night. There's a clothing store you actually want to shop at.... and then, there's a shitty vintage shop that's a cross between an actual vintage shop, a cheap hooker-clothing store, and a dollar store. It plays loud punk music, everyone that works there is cool--and the prices are so cheap! WOW! what a hidden gem! until you go try everything on... everything looks like it should be cool... but you try it on and it looks... off. Off enough to give you a bad feeling, but not enough to make you not buy it... like the
uncanny valley
of alternative fashion. EVERYTHING I ever bought here ripped, fell apart, was scratchy against my skin (a few hours later), made my skin burst out in a rash, or just looked STUPID. Fuck this place. We've got these "Ragstock"-like places on St. Marks Place in NYC, but I know better than to go there.
5 dollars! what a steal!
Next up is a pair of shoes I wanted as soon as I saw them in Tumblr-land: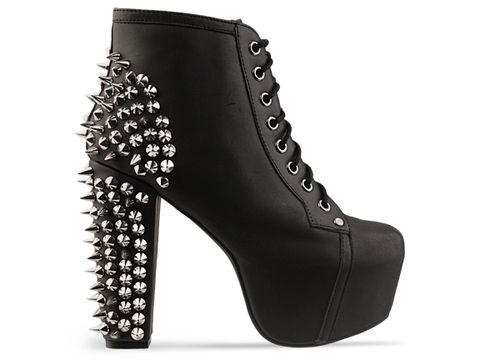 A few months go by and then there's the knockoff in some of the ghetto stores in the city. $40 instead of the $280 or whatever they were. I tried the knockoffs on and was like "wow these are uncomfortable" and then I bought them anyway because I'm stupid. They look like the cheapest cheap knockoff ever. I wore them out for a friends birthday. This is how it went. I walk out my door. OUCH. By the time I get to the train station...which is literally around the corner... I'm limping. I get on the train. I get off a stop earlier because I know there's a drug store. I buy a pair of grandma slippers and throw these torture devises in a plastic bag and carry them around the rest of the night.
Next up is a Tripp dress I got on sale at St. Marks Place. Someone tell me who the audience is for this dress. From behind, you've got a HOT PINK fishnet Avril Levine-Victorian bustle thing. why oh why the victorian bustle thing--who thought THAT was a good idea? Corset lacing overlaps with it to give you a confusing waistline. Exposed side zipper...cause PUNK!
back acne gives me nerd powers
aaaand what the fuck is going on in the front? From the front, you've got Ren-faire cyber witch in a lolita-minus-the-petticoat skirt. This long skirt part of the dress looks sad and matronly. The top half is a tube top, which of course is very flattering to nobody--whether you've got boobs or not. Yeah and every mall goth's favorite...something that looks like a corset but isn't. this dress doesn't even have the plastic boning! the closest thing to boning is that exposed zipper. so one side is marginally more structured than the other.
stuuuuuupid
So yeah. stupid shit I bought. c'mon fess up... what's the stupidest thing you bought?